About Weapon Delivery Planner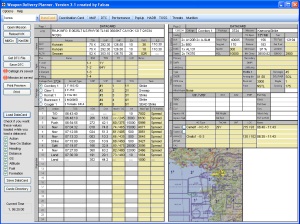 Although BMS can handle a lot of through the in-game user interface, there are a number of shortcomings with using that as a mission planning tool. WDP is an alternative tool to do a more complete job of this planning in a very short time.

In WDP you can download the missiondata out of Falcon. After editing and setting up your mission planning you can upload it into your DTC in Falcon BMS. Features (check below) are automatically calculated on the basis of your mission file (.tac), loadout, aircraftype etc.

Read the article about using WDP and using your DTC so you can get an impression how WDP can help you plan your missions.
---
Features in the current version of WDP:

Multiple theatres support

Aegean theatre
Balkans theatre
Central Europe theatre
Middle East theatre
Korea theatre
Nevada theatre
Israel theatre

Datacard management

shows all relevant data for the flight. Easy to share or print

Coordinationcard

shows all relevant data for the Package. Quick reference for managing your Package.

Performance

Airport information including airport chart
Optimal climbspeeds (AB or MIL climb) and time to planned altitude
Cruisepeeds, cruise ceiling, optimal cruise alt, service ceiling

DTC management

Save your settings and reload them with one click for different missions
Share the datacards with squadronmates and one click upload to the DTC in Falcon.
Steerpoints: Manage steerpoints and lines
EWS: Manage and save your chaff and Flare settings including bingo, timing etc
MFD: Set you MFDs so once you jump into your pit they are ready for the specific mission
Radio/Nav: Set your frequencies. Presets will be in the pit after DTC loading
Nav offsets: Set your nav offsetpoints for your attackprofile
Systems: Set your systems like HUD, Vieuwsettings, ALOW, gunsettings, MasterARM
Weapons: Set your AA and AG weapons. Timing delay, fuses, autopower etc

Map management

Change mapsettings and display the lines on your HSD in Falcon
Have WDP set relevant Pre Planned Threats (PPT) automatically
Reset Bulls Eye
Tanker tracks automatically added
Make or edit lines

Attackprofiles

Plan your strike method, choose strikeprofiles and save to DTC
Popup attack
High Altitude Dive Bombing (HADB)
TOSS attack

Threat and Munitions database

WDP comes with a full database on threats and munitions for quick reference
Extensive information on threats like SAM Systems, SAM missiles and radars
Including threat RWR warning sounds and RWR symbol
Munition information and calculation of MRA and time to impact for optimal munition choice